Beat the great resignation with a top employee benefits package
Our Ignite Partnership Programme provides you with simple and effective tools to build a successful employee benefits scheme.
Helping you realise your better financial future
Professional guidance from AdviceFirst can help you achieve your life goals. We offer specialist financial advice to individuals and businesses throughout New Zealand. 
We can help you increase and manage your wealth and protect yourself and your loved ones through insurance. Similarly, our expert advisers can help you build and protect your business and its people. 
All our advisers are paid by salary, not commission, so you can be sure we are focused on achieving good outcomes for you. 
To find out more about how we can help you, click on the service you're after below.
Spring into a modern day investment plan

Not getting much of a bonus on your bonds? Or tired of low interest from your bank? Talk to us about investing with some of the best investment managers from New Zealand and around the world.
We're committed to the community
We want to make a difference
'We're members of the Responsible Investment Association of Australasia (RIAA), supporting the growth of responsible investing in New Zealand and Australia. We work with our providers to bring you a range of Sustainable Investment funds that have been thoroughly researched by expert third parties.'
We are Living Wage employers
'Being an accredited Living Wage Employer is an entirely natural fit with our whole ethos of helping people to realise a better future.'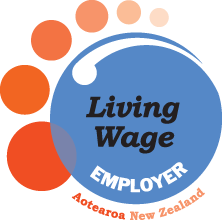 We are Rainbow Tick accredited
'Being awarded the Rainbow Tick reflects our desire to be an inclusive workplace that mirrors the diverse communities in which we live.'
We're helping fight period poverty
We're a proud partner of Dignity, a social enterprise working to provide access to sanitary items to all New Zealand women through a 'buy one give one system'.
We have WriteMark Approval
'To show our commitment to clear communication, our key web pages have WriteMark approval.  Other communications of ours also hold the WriteMark.'
'Clear, and concise information with no spin.  Easy to contact, easy to talk to, prompt response, pleasant and human!'
Testimonial from a wealth management client
August 2020
AdviceFirst is a Financial Advice Provider (FSP23242).